Forest Cinema Hammer

Waldkino Hammer

(2013.09.18)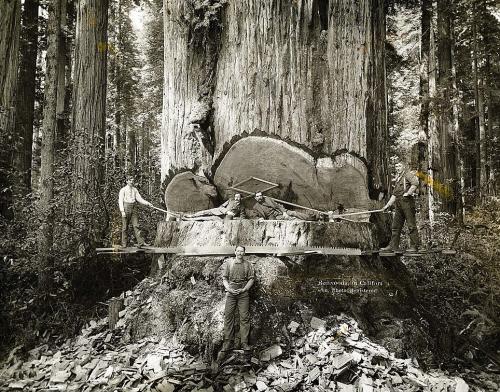 Kino über den Wald – im Wald.
Öffentliche Filmvorführungen in der denkmalgeschützten historischen Oberförsterei Hammer
Cinema about the forest – in the forest.
Public screenings at the headquarters of the forest district Hammer
Aus der Reihe seiner "Waldarbeit" stellt W. Georgsdorf in Kooperation mit dem Landesbetrieb Forst Brandenburg (LFB) und der Oberförsterei Hammer das Projekt WALDKINO HAMMER vor.
Aus Anlass des Jubiläums "300 Jahre Nachhaltigkeit in Deutschland" fanden schon von Mai bis September 2013 monatlich öffentliche Filmvorführungen in der denkmalgeschützten historischen Oberförsterei Hammer im Landkreis Dahme-Spreewald statt, auf großer Leinwand, in technisch professioneller Projektion, in der renovierten, großen, eigens dafür vorbereiteten Scheune, bei Essen und Trinken. Zu den Hauptfilmen Einführungen und gelegentlich Vorfilme, sowie Zeit für Fragen und Antworten im Anschluss an die Filme.
Das Waldkino erlebte rege Nachfrage und wird daher in 2014 fortgesetzt, nunmehr auch mit amtlicher Unterstützung.
Waldkino 10
5. Vorstellung der diesjährigen Saison am Freitag, dem 26. September 2014 um 20 Uhr, Oberförsterei Hammer
Spielfilm mit Starbesetzung, der das Dilemma zwischen Energieautonomie und Umweltrisiko, zwischen dem Erhalt der Natur- und Kulturräume und den Verlockungen des großen Geldes behandelt. Es geht um Fracking: Ein Erdgasunternehmen will Land von den Bauern pachten, um darauf nach Gas zu bohren.
Waldkino 9
4. Vorstellung der diesjährigen Saison am Freitag, dem 29.August 2014 um 20 Uhr, Oberförsterei Hammer
More Than Honey (2012, R: Markus Imhoof)
Waldkino 8
3. Vorstellung der diesjährigen Saison am Freitag, dem 27. Juli 2014 um 20 Uhr, Oberförsterei Hammer
Das Geheimnis der Bäume (2014, R: Luc Jacquet)
Presseheft
Waldkino 7
2. Vorstellung der diesjährigen Saison am Freitag, dem 27. Juni 2014 um 20 Uhr Plastic Planet (Werner Boote, 2009), 99 min.
Das weitere Programm wird angekündigt.
Vorstellungen an jedem letzten Freitag des Monats um 20 Uhr:
30. Mai 2014
27. Juni 2014
25. Juli 2014
29. August 2014
26. September 2014
Oberförsterei Hammer
An der B 179
15746 Groß Köris
Tel: 033765 21780
Email: Obf.Hammer@affwu.brandenburg.de
Mit technischer Ausstattung durch
RentEvent
und mit besonderem Dank an Stefan und Liane Schultze
W.G. zum Projekt Waldkino Hammer:
"Für mich war die Anfrage des LFB und die Initiative des gestaltungsfreudigen Oberförsters Tim Ness eine weitere schöne Gelegenheit, Freunde und Bewohner dieser strukturschwachen und relativ kulturarmen Region für ästhetische Positionen zu erwärmen, die außerhalb der landläufigen Versorgung mit leichter Unterhaltung liegen und die den Diskurs für ein geräumiges regionales Selbstverständnis belüften und beleben können. Dabei sollen vor allem Ideen des "think global – act local" als Kontrapunkt zu einem Heimatbild, das oftmals schon am Gartenzaun oder an der Kreisgrenze endet, eine Ergänzung des geistigen Speiseplans sein."
Das in Deutschland gefeierte Jubiläum >300 Jahre Nachhaltigkeit< oder auch >300 Jahre Nachhaltigkeit der Forstwirtschaft in Deutschland< war ein würdiger Anlass, zu ökologischen Fragen, die ja vor allem auch die sozial- und humanökologischen Fragen betreffen, ein weiteres kleines Projekt im nördlichen Spreewald vor den Toren Berlins gemeinsam mit der Oberförsterei und dem LFB zu initiieren, in dem das im ruralen Brandenburg noch anders als in der Metropole Berlin gewichtete Heimatgefühl mit einem Blick über den Tellerrand verbunden werden kann. Bei Essen und Trinken finden sich Bewohner der hiesigen Wälder und die Besucher aus Berlin in der prächtigen Oberförsterei Hammer ein, um in der Gemeinsamkeit eines Public Viewing sich am Anwesen im Wald zu freuen, Geschmack an vernetztem und kosmopolitischem Diskurs zu demonstrieren und neben der Erbauung - zur Überlebensfrage und Ehrensache "Nachhaltigkeit" - von Film zu Film Anregungen und Lust an der Filmkunst der Gegenwart zu gewinnen. Am 31. Mai 2013 wurde das Waldkino von Oberförster Tim Ness und Wolfgang Georgsdorf mit dem spektakulären Auftaktfilm HOME (Heimat) von Yann-Artus Bertrand in voller Scheune eröffnet.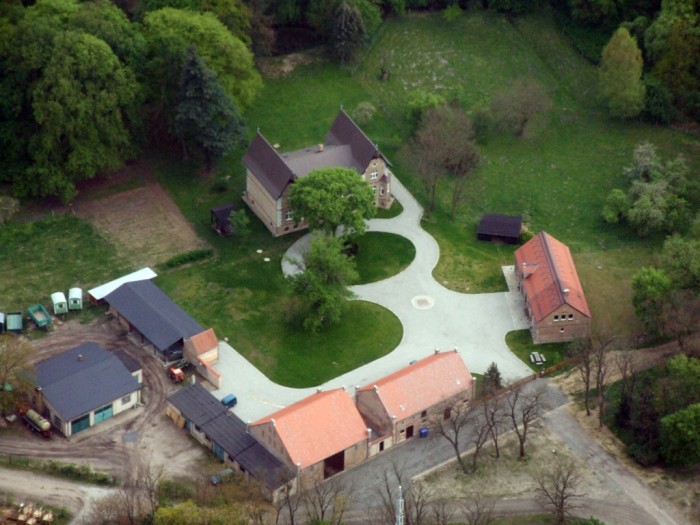 "Waldarbeit" betitelt eine fortlaufende Reihe von Projekten W. Georgsdorfs in, mit oder über den Wald, im engeren oder weiteren Sinn, in künstlerischer, kultureller oder wissenschaftlicher Praxis und Forschung. Etliche dieser Arbeiten sind Beiträge regionaler Entwicklung und wollen einen Teil der Inspiration in die waldreichen Regionen des Umlands von Berlin rückspeisen, die aus ihnen bezogen werden.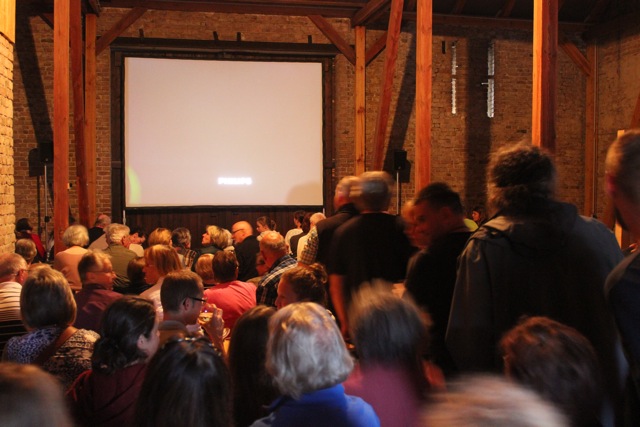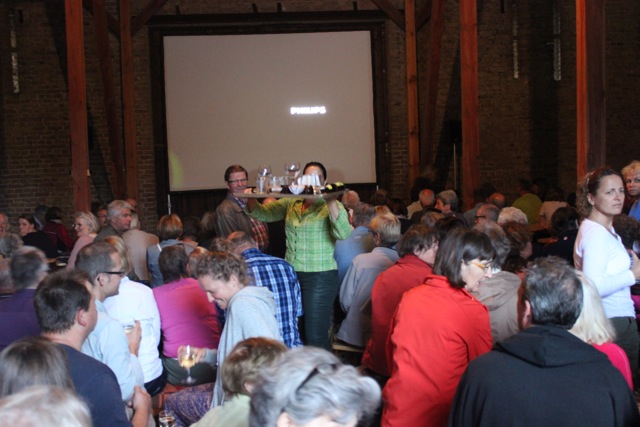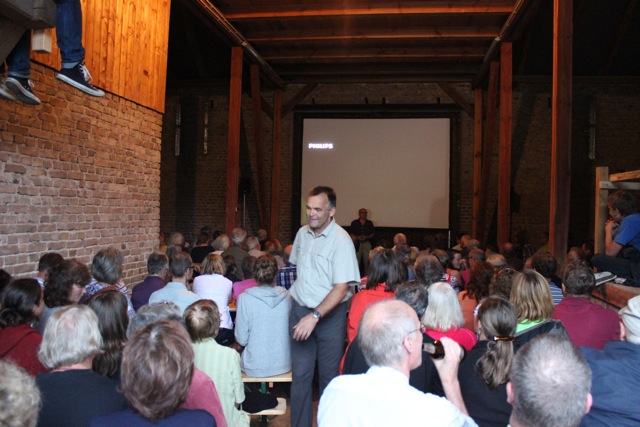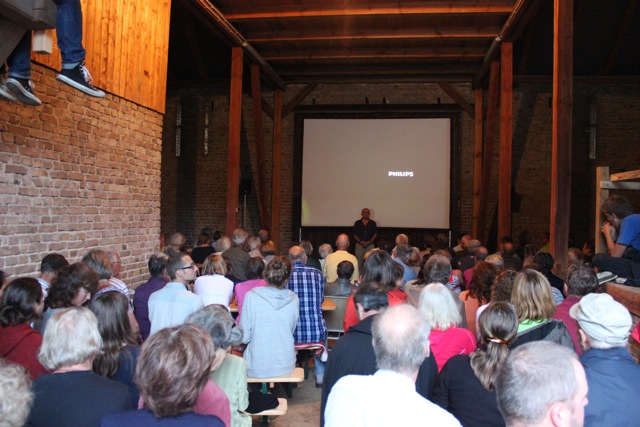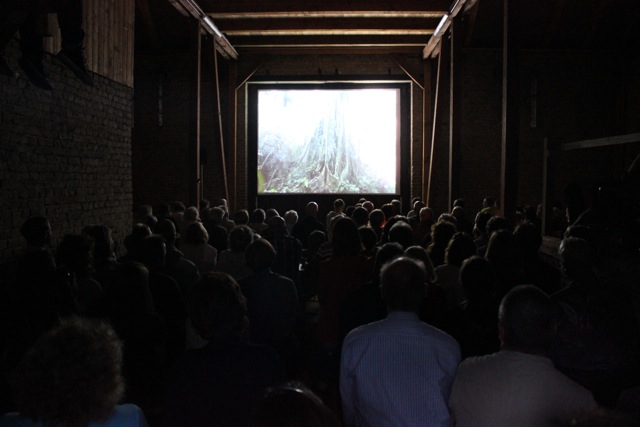 In cooperation with Landesbetrieb Forst Brandenburg (LFB –
State Forest Brandenburg Holding
) and Oberfoersterei Hammer (headquarters of forest district Hammer), W. Georgsdorf is presenting the project WALDKINO HAMMER (FOREST CINEMA HAMMER)
as part of his series "Forest Labour".
On the occasion of the anniversary of "300 Years of sustainability" a public screening had taken place 2013 monthly on big screen at the historic heritage mansion of headquarters of forest district Hammer (rural district Dahme-Spreewald), in the great barn, with food and drinks in the park of the property. With lectures of introduction and time for questions and discussion afterwards. All films will preliminarily refer to the term "sustainability" and "forest" as well as to human management of nature and the environment.
The forest cinema saw vital demand and popularity and will hence be continued in 2014. This time also with support of the local authorities.
Forest Cinema 10
Friday 26th September 2014, 8 pm, Oberförsterei Hammer
Full Feature Film with star cast about the dilemma between energy autonomy and environmental hazards, and between the maintainance of natural and cultural spaces and the temptations of big money. "Fracking" is the main theme: A Gascompany wants to lease and buy land from the farmers, to drill for gas.
Forest Cinema 9
More Than HoneyMore Than Honey (2012, R: Markus Imhoof)
Friday 29th August 2014, 8 pm, Oberförsterei Hammer
Forest Cinema 8
Das Geheimnis der Bäume (2014, R: Luc Jaquet)
Friday 27th July 2014, 8 pm, Oberförsterei Hammer
Presseheft
Forest Cinema 7
Plastic Planet Plastic Planet (Werner Boote, 2009), 99 min.
Friday 27th June 2014, 8 pm, Oberförsterei Hammer
Screenings every last Friday of the month at 8 pm:
30 May 2014
27 June 2014
25 July 2014
29 August 2014
26 September 2014
Oberförsterei Hammer
An der B 179
15746 Groß Köris
Tel: +49 – 33765 21780
Email: Obf.Hammer@affwu.brandenburg.de
With the technical equipment of RentEvent
Special thanks to Stefan and Liane Schultze