Artist Talk – On Smeller
(2013.10.31)
Öffentlicher Vortrag, Universität für angewandte Kunst Wien, 5. Dezember 2013
Open Lecture, University of applied arts Vienna, 5th December 2013
Wolfgang Georgsdorf: Das Projekt "Smeller" – zeitbasierte Geruchssequenzen
Donnerstag, 5. Dezember 2013
Universität für angewandte Kunst Wien
Abteilung Digitale Kunst
Expositur Sterngasse 13
1010 Wien
Wolfgang Georgsdorf über das Projekt "Smeller":
Scentscapes, Soundscapes, Smellodies – Kollektive Erfahrung dramatischer olfaktorischer Poesie und semantischer Geruchsfolgen.
Multisensorische Vorführungsräume. Digitale Aufnahme und Wiedergabe von Geruchssequenzen. Internetübertragung von Gerüchen.
Kickoff eines Paradigmas: Die Einführung zeitbasierter olfaktorischer Poesie in die darstellende und bildende Kunst.
Lesen Sie mehr über Smeller hier.
Wolfgang Georgsdorf:
The "Smeller"-project: time-based sequences of scents and smells
Thursday, 5th Dezember 2013
University of applied arts Vienna
Department of Digital Art
Expositur Sterngasse 13
1010 Vienna
Wolfgang Georgsdorf about the "Smeller"-project:
Scentscapes, Soundscapes – Smellodies – the collective experience of dramatic olfactory poetry and semantic scent sequences.
Multi-sensory presentation space. Digital recording, performance and replay of scent sequences. Webcast of smells and scents.
Kickoff of a paradigm: introduction of time-based olfactory composing to performing and fine arts.
Read more about Smeller here.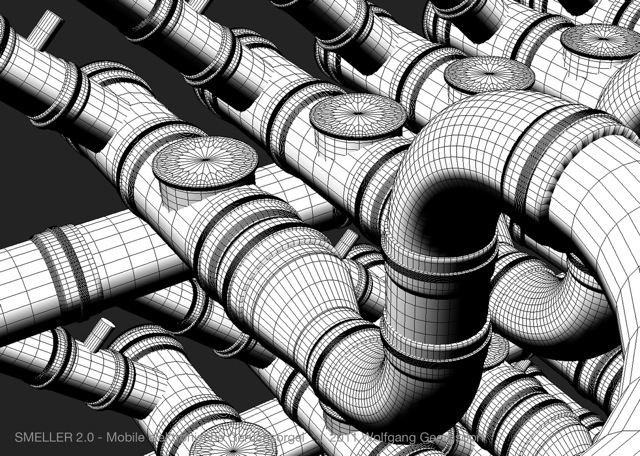 CAD: Robert-Schmitz-Michels 2011