Permanent Conference (Xylomat)
(2011.03.29)
Sound sculpture at the exhibition "Year of Forests"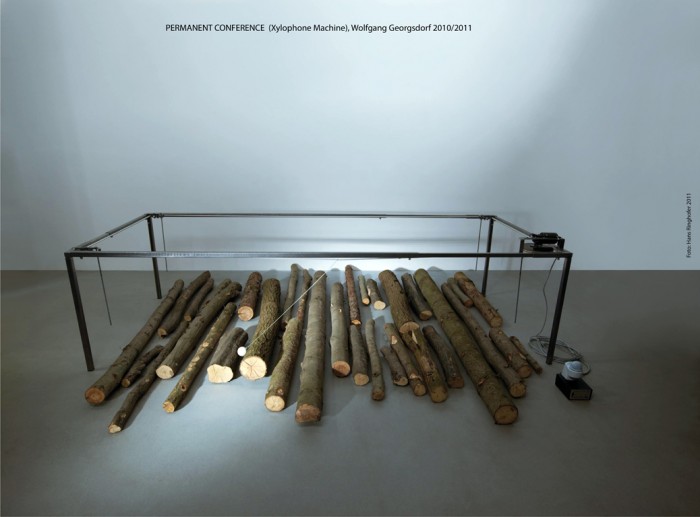 Ausstellungsorte:
ZS-Art Galerie in Wien, 20.Januar bis 3.März 2011
Niederösterreichisches Landesmuseum, 21.März bis 21. September 2011
Stiftsmuseum Klosterneuburg, 1. Oktober 2011 bis 31. Januar 2012
Videos weiter unten auf dieser Seite
Die Klangskulptur / Klanginstallation fußt auf liegenden Baumstämmen und Stammstücken, über die ein gummiseilgezogener Schlepplift zwei Billardkugeln schleift, die zwei einander verfolgende Melodievariationen auf den Stammhölzern anschlagen. Beide Ausstellungen entstanden im Rahmen zahlreicher weltweiter Aktivitäten zu dem von den Vereinten Nationen für 2011 ausgerufenen "Internationalen Jahr der Wälder".
Kamera: Wolfgang Georgsdorf
Video Edit: Thomas Adamicka, Berlin
Technische Unterstützung/ Mechanische Realisation: Stadtwerkstatt/Linz, Austria.
Dank an:
Alfred Woegerbauer, Linz
Franz Xaver, Linz
Kurt Hennrich (1z1.at), Wien
Weingut Ubl-Doschek, Wien
Klaus Györgyfalvay, Wien
Heinz Baumüller, Düsseldorf
Julianna Fehlinger, Wien
Roland Hofmann, Wien
Andreas Frank, Wien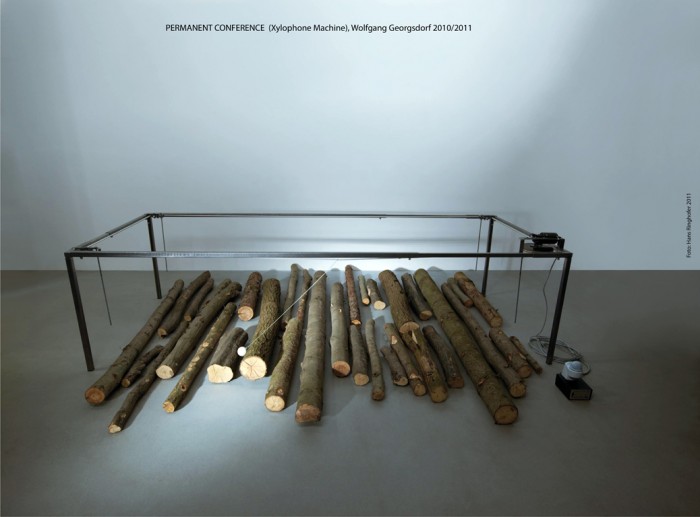 Exhibited at:
ZS-Art Gallery, Vienna, 20th January to 3rd March 2011
State Museum of Lower Austria, St.Poelten, 21st March to 21st September 2011
Monastery Klosterneuburg Museum , 1st October 2011 to 31st January 2012
Videos further down on this page
Sound sculpture / installation: Logs and log parts with a rubber rope tow lift atop dragging two billard balls and generating two xylophone melody variations chasing each other. Both exhibitions are part of numerous activities worldwide induced by the United Nations proclaimed "International Year of the Forest"
First exhibited in Vienna and then part of a travelling exhibition throughout 2011 on behalf of the UN-declared Year of the Forest. A red and a white billard ball chasing each other towed by clamps on rubber strings and bouncing over tuned logs, untriggered when visitors are approaching.
Material: tree trunks, iron billard sized table frame, tow lift, motion detector, 2 billard balls, electric motor.
Camera: Wolfgang Georgsdorf
Video Edit: Thomas Adamicka, Berlin
Technical Support / Mechatronical Realisation: Stadtwerkstatt/Linz, Austria.
Thanks to
Alfred Woegerbauer, Linz
Franz Xaver, Linz
Kurt Hennrich (1z1.at), Vienna
Weingut Ubl-Doschek, Vienna
Klaus Györgyfalvay, Vienna
Heinz Baumüller, Duesseldorf
Julianna Fehlinger, Vienna
Roland Hofmann, Vienna
Andreas Frank, Vienna
Video 1: