Giant Forest Xylophone

Großes Waldxylophon

(2011.07.01)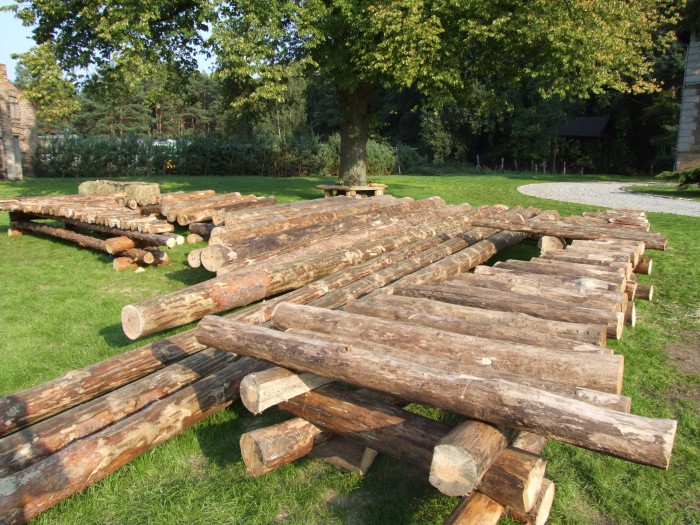 Mammut-Xylophon aus Baumstämmen mit 80-160 Tönen für 6-12 Spieler
Klangskulptur und Installation
Mammut-Xylophone made of whole tree trunks with 80 to 160 tones for 6 to 12 players. Sound Sculpture and installation.
Über die Jahre entstanden seit den Achtzigern verschiedene "Riesenxylophone" oder "Große Waldxylophone" im öffentlichen Raum oder im Rahmen von Festivals oder Ausstellungen. So zum Beispiel 1980 in Kombination mit der Klangskulptur "Station/Metallkrawall" im Museum des 20. Jahrhunderts in Wien im Rahmen der Ausstellung "Intelligenz der Hand". Hier waren die tiefsten Töne bis zu 15m lang.
---
Wasserwald, Komposition für Großes Waldxylophon, Wolfgang Georgsdorf
Waldxylophone (Auswahl)
2005 Oberförsterei Hammer/Brandenburg/Landkreis Dahme-Spreewald, Großes Waldxylophon, Installation und öffentliche Konzerte
2006 Schwarzenberg'scher Schwemmkanal: Großes Waldxylophon im Böhmerwald am tschechisch-österreichischen Grenzstein beim Schwemmkanal/Iglbach
2008 Großes Waldxylophon Hammer in der Oberförsterei Hammer im Landkreis Dahme-Spreewald und auf der Mühleninsel vor dem Schloss in Königswusterhausen zum Brandenburgtag
2008 CD Tonträgeraufnahmen und Musikvideo "Hammer"
2011 Großes Waldxylophon Holzhausen für den Nieheimer Kunstpfad in NRW/Westfalen
2011 Öffentliches Konzert in Potsdam, Wildpark Sanssouci zum internationalen Jahr der Wälder
Over the years since the eighties, various "Giant Xylophones" or "Large Forest Xylophones" were installed and played in public, at festivals or in exhibitions by Georgsdorf and various ensembles of up to 12 players now and then. So for example in 1980 in combination with the sound sculpture "Station / Metal Riot" at the Museum of the 20th Century in Vienna during the exhibition "Intelligence of the Hand", or 2011 in Potsdam/Brandenburg, Wild Park Sanssouci in a public concert on invitation of the State of Brandenburg on behalf of the "Year of the Forest". Deepest tones up to 45 feet length.
Wasserwald, composition for Lage Forest Xylophone, Wolfgang Georgsdorf